The proposed Ph.D. in Global Biosecurity & Ecosystems Health (GLOBECO) will train cadres of critical thinkers that will mitigate the ever-increasing instances of zoonotic Disease outbreaks.
The College of Veterinary Medicine, Animal Resources, and Biosecurity (CoVAB) on Friday 4th November hosted a stakeholder engagement that discussed the proposed Ph.D. in Global Security and Ecosystem Health (GLOBECO). They came up with an eight-man committee that will deliberate further to consider the input of the stakeholders.
The stakeholders were drawn from agencies that included the Curriculum Development Centre, the National Council for Higher Education, The College of Education and External Studies, the Ministry of Health, the Ministry of Agriculture, Animal Industry and Fisheries, the Ministry of Water and Environment, East Africa School of Library, Office of the Prime Minister as well as various Departments from the College.
According to Professor Clovice Kankya, the Head of, Department of Biosecurity, Ecosystems and Veterinary Public Health at CoVAB, Makerere University as the seat of critical thinkers came up with the idea of initiating an unusual Ph.D. as one way of mitigating the continuously emerging epidemics of zoonotic diseases citing Ebola, COVID-19, Rift Valley Fever and Anthrax, as well as Brucellosis and Tuberculosis.  He said it was important that the University came up with such a program to train a high cadre of professionals able to address the emergencies in Biosecurity.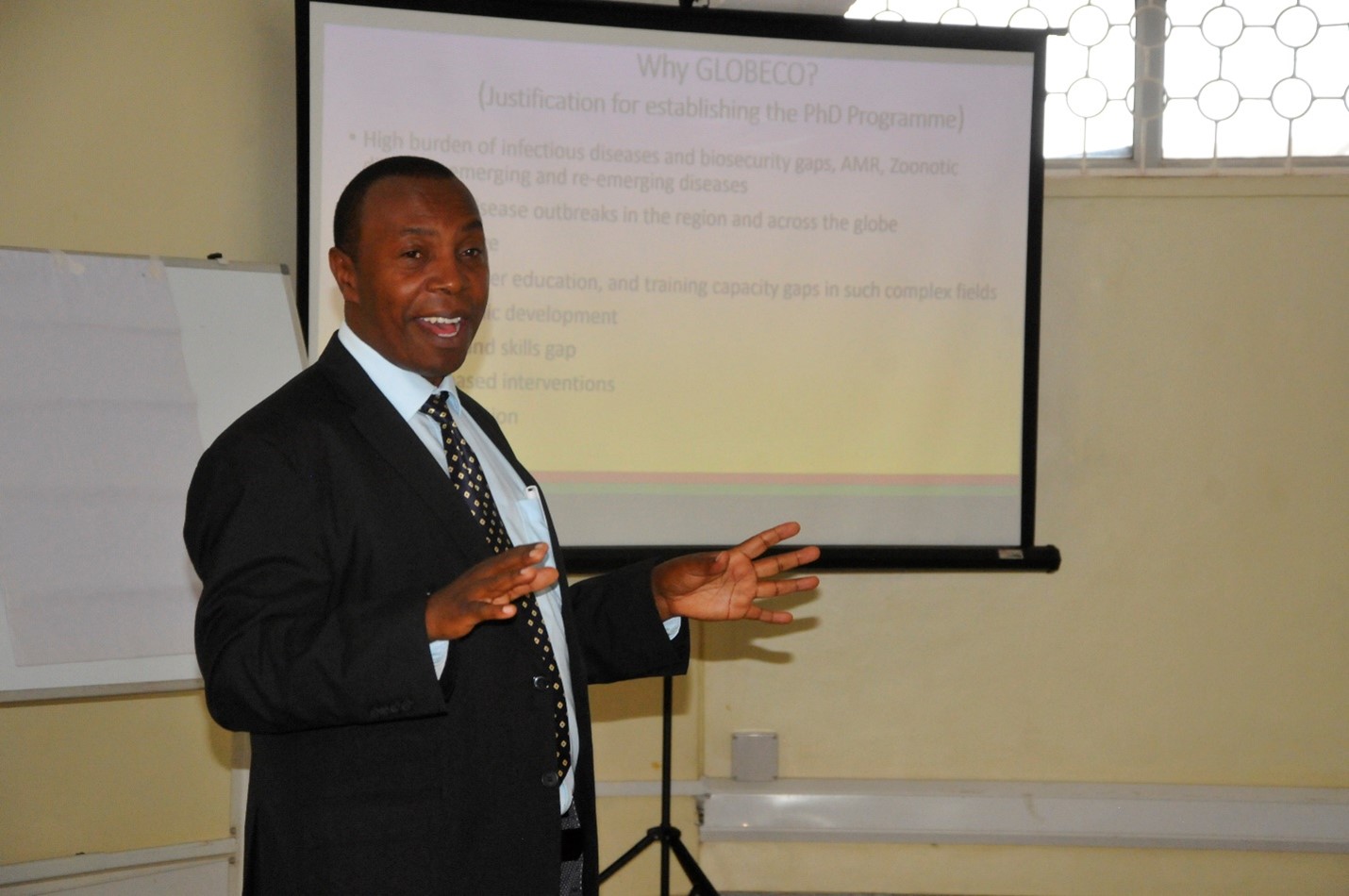 Prof. Kankya makes a presentation about the new program
'This is the long-awaited new dawn at CoVAB.  The College is a pillar of biosecurity.  This is a golden opportunity to improve Makerere University and get at the forefront of finding solutions to serious societal problems at the national, regional, and global levels, he said.
'We would like to have professionals who can competently guide and advise hotspot communities that face such zoonotic disease outbreaks so that they are contained' said Prof. Kankya at the stakeholder meeting held in the Biosecurity center at the College.  He said the kind of Ph.D. proposed was intended for students that are creative, innovative, and able to deliver a product, such as vaccine development that is tailored to our own setting in Uganda and the Region.
He revealed that the program will be cross-cutting in line with the One Health Approach, and will enroll students from fields of Gender, Sociology, Social Anthropology, Rural Development, Agriculture, Plant Science, Ecosystems Health, Wildlife, Veterinary, Public Health, Environmental Health, Occupation, and environmental health and others.  "We are going to focus on a number of tracks to even include engineering and architectural design so that we have these engineering controls that are tailored to Biosecurity issues well addressed in this Doctoral program", he said.
The Director of the National Curriculum Development Centre (NCDC) Dr. Grace Baguma informed the meeting that she was shocked to learn that a number of diseases we suffer as human beings were from animals.   She said she was looking forward to a Ph.D. that would yield results from researchers, addressing Afri-centred challenges and generating African knowledge.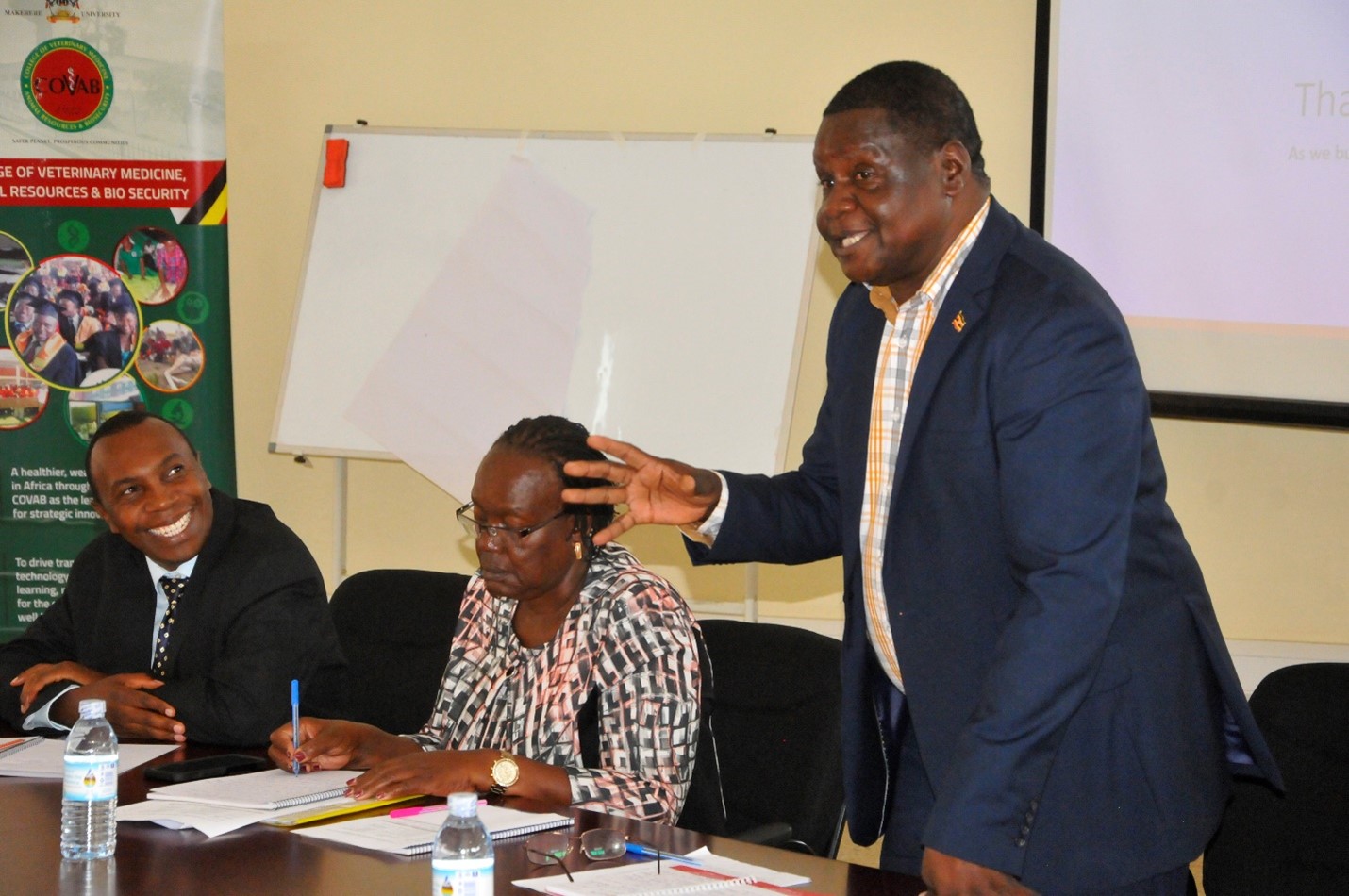 Dr. Baguma (C) flanked by Dr. Kankya (L) and  Dr. David Onen from CEES  made contributions in the discussion
She challenged scientists to find ways of coming up with translations of scientific terminologies that would appeal to the communities for whom the messages are intended.  I have a strong feeling that research information can be taken to the people and they use it.  Research should be about addressing societal issues and I would love to look at the current 21st-century skills embedded in the program, she said while emphasizing the need to have a program of relevance to the communities rather than stressing writing articles for the journals.
Dr. Baguma said the program should be seen to add value for instance in vaccine development. Citing an example of Ebola, Ms. Baguma opined that professionals should be seen to set up their research centers in different regions of this country where the public would go and get ideas on how to control and manage such outbreaks.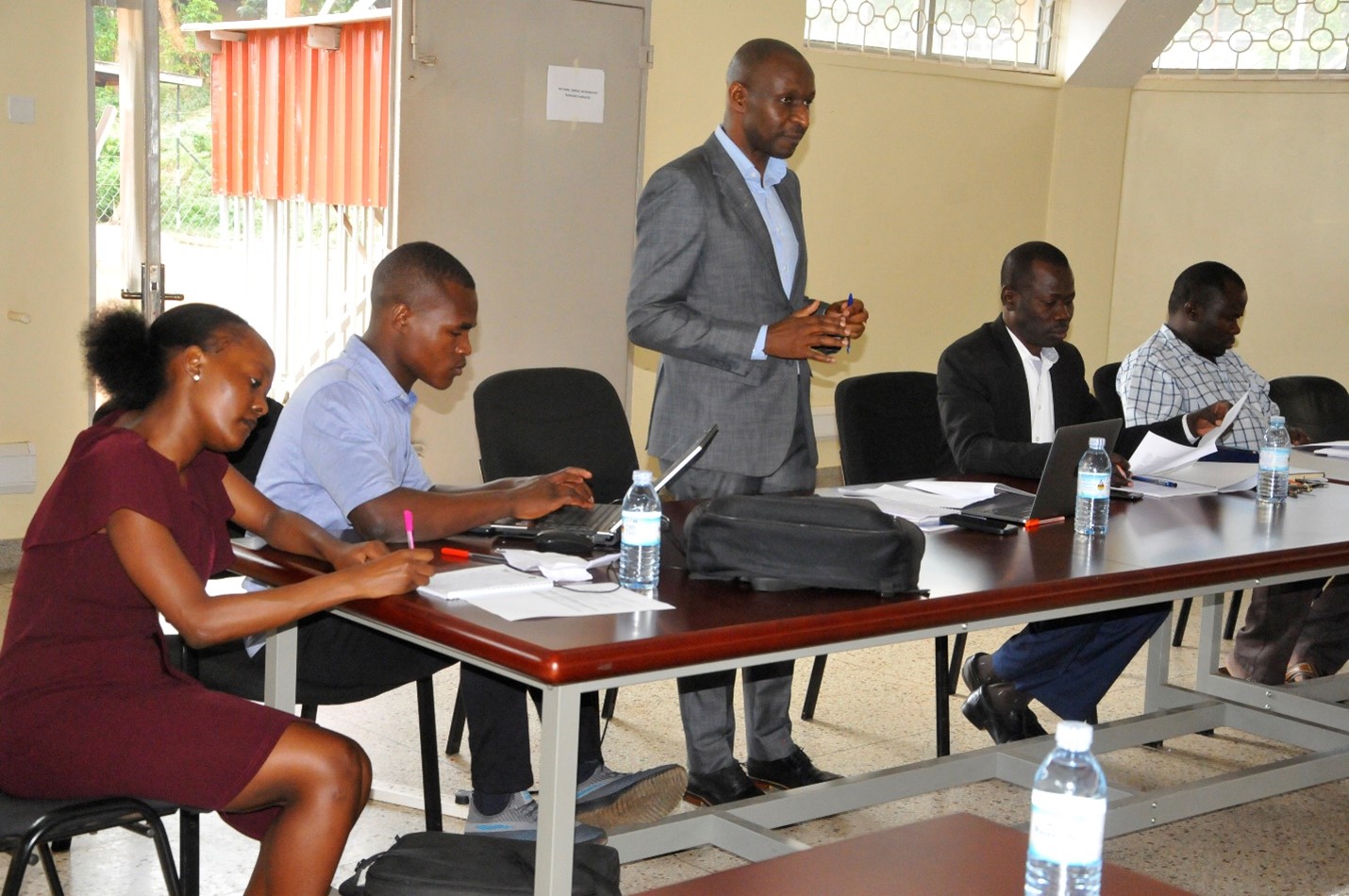 Dr. Rwego (standing) gives a background to the Ph.D. program
While speaking as Head of the Department, Dr. Rwego said the Ph.D program was coming at the right time when the One Health Approach had been in existence since 2010.   He said social scientists, medical doctors, and educationists came together to work as a team in ensuring that the various aspects of the program were addressed through a multisectoral approach. He observed that the progression to the PH.D program had been gradual having started off with programs like the Bachelor and Masters's Degree in Biotechnical Laboratory sciences.
Prof. John David Kabasa while making contributions to the discussion said for one to be called a Scientist, there was a need for that person to practice science with professional skill and tact. He said in Africa, the term scientist had been used in a misleading way with people holding Bachelor's or Master's degrees referred to as Scientists. 'Makerere cannot be part of this misnomer. So we want to ensure that scientists harness the body of knowledge. Right now there is a lot of knowledge everywhere.  Scientists should now be seen to bring products to the market, he said.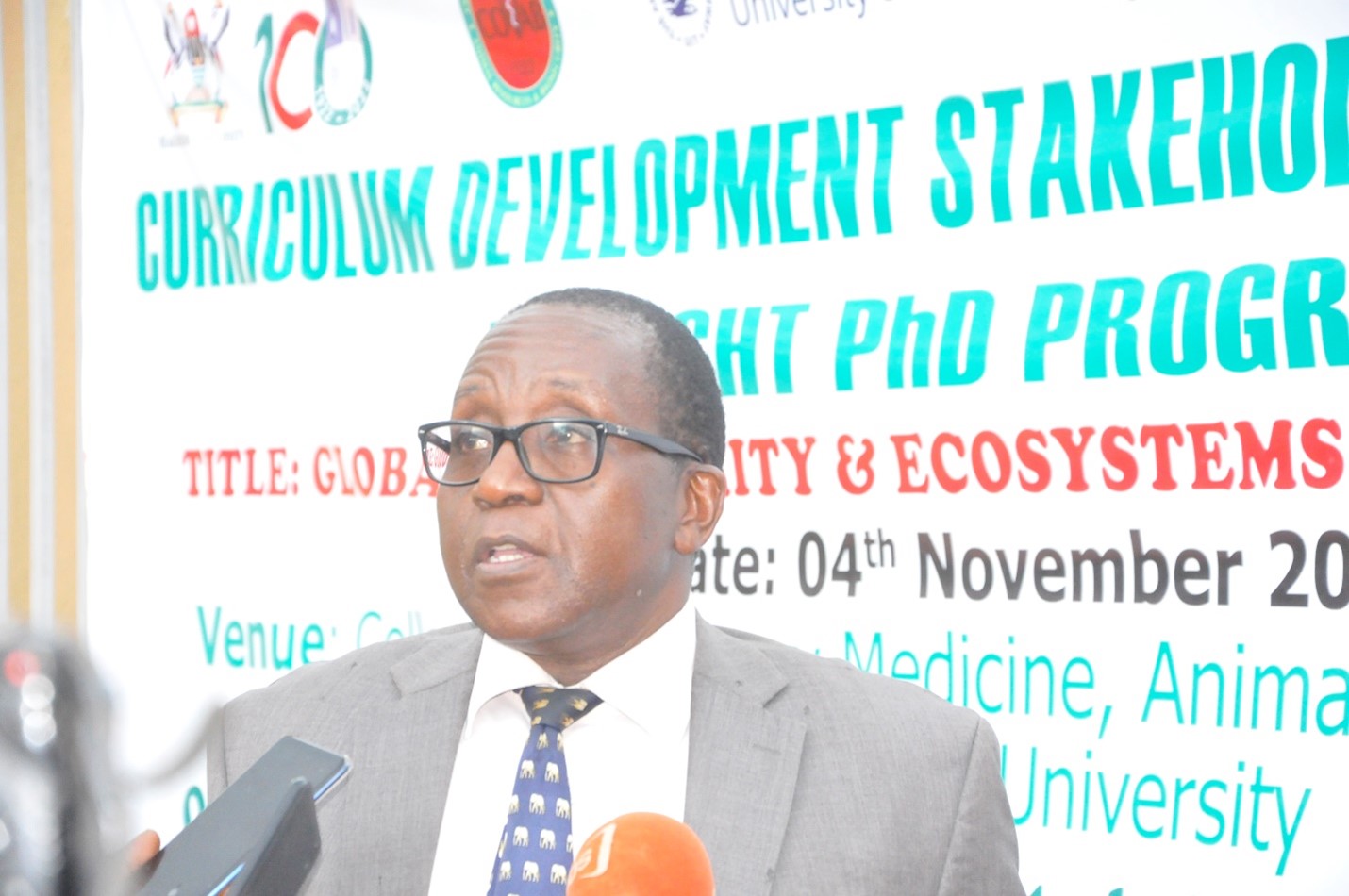 Prof. John David  Kabasa makes his input during the deliberations
This is going to be the first ever taught Ph.D. program at the College of Veterinary Medicine, Animal Resources and Biosecurity (COVAB). The current programs, Doctor of Philosophy Degree in veterinary medicine are general in nature, whereas this one will have coursework to align the students to the field of Biosecurity, which is a relatively new and complex area that requires professionals to change mindsets, requires laboratory capacity, social anthropological angle to understand the zoonotic diseases and advise the society on behavior change.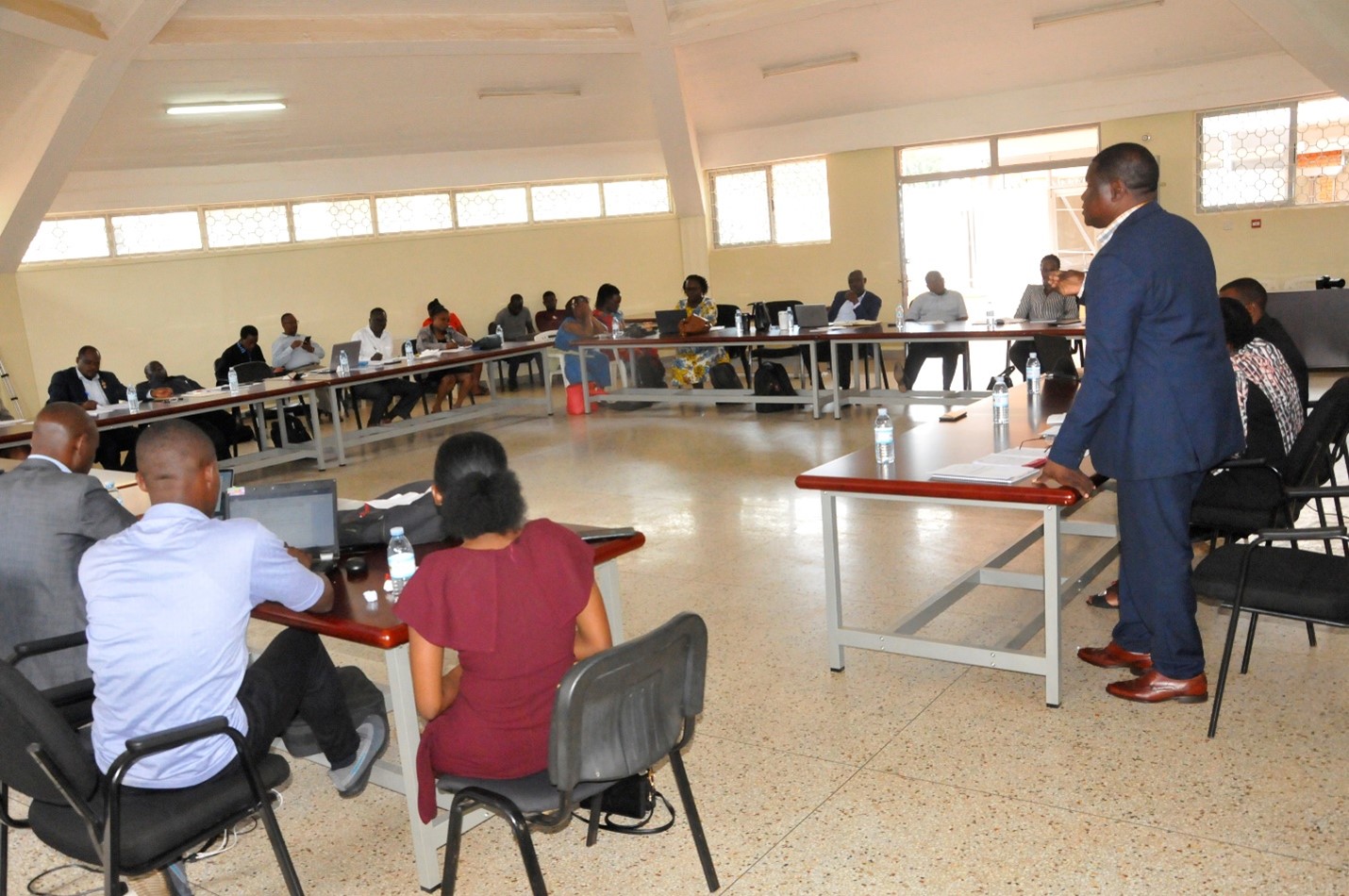 It is supported by the Norway Government through a NORHED II programme under the Climate Change and Infectious Diseases management, A one Health Approach (CIDIMOH project). 6 Masters and 6 PhDs and 2 postdocs will be supported. This project is coordinated by the Artic University of Norway(UiT), University of South Eastern Norway (USN), University of Bahr-EL-Ghazal (UBG) in South Sudan and Makerere University Kampala, Uganda.
Story by Harriet Musinguzi.