THE BEST BACHELOR OF VETERINARY MEDICINE STUDENTS ARE PRODUCTS OF UPE AND USE
May 29, 2022
by
Brooks
in Uncategorized
The best performing students in the Bachelor of Veterinary Medicine in the 2022 graduation are products of Universal Primary Education and Universal Secondary Education.
The trio as we gather from their stories are all from humble beginnings and had to endure hardships like lack of school fees, walking long journeys to and from School. They credit their success to hard work, resilience and support from family, friends and well-wishers.
They received a cash prize of Uganda Shillings Fifteen Million with the first getting 7 million, the second getting 5 million and 3 million for the third.
Alex Kyabarongo, the best student of Bachelor of Veterinary Medicine class of 2022 with CGPA 4.25 was born on the 1st of April 1997 in a pastoral family in the cattle corridor, a last born of Mr. Fred and Mrs. Norah Kagyendaira of Bubaare Village Kiruhura District.  Alex studied in the local schools Bubaare and Kyeera Primary Schools which were about 10 kilometers away from home. He got 25 and 17 aggregates O and A level respectively.  Although he had a dream of becoming a teacher, this changed when he discovered veterinary medicine and wanted to become a Veterinary Doctor. He studied both his Ordinary and Advanced high school levels in the same school (Mbarara Secondary School, 2010-2015), a third world government school.
Alex had been struggling with school fees and had only studied on the mercies of the school head teacher, Mr. Birungi Godfrey who secured him a half bursary to complete his "A" level after day schooling for the entire "O" level. '  After completing my  "A" level I took a leap of faith and filled in PUJAB forms placing Veterinary Medicine at Makerere University as my first choice, and waited for the miracle to happen'. Said Alex.   With 17 points in BCA/Sub. Math he was admitted to Makerere University School of Veterinary Medicine on a government scholarship. "I came with one ambition, getting grades that can take me to master's degree level so that I can break the barrier of illiteracy in the family and in the village at large, especially in sciences'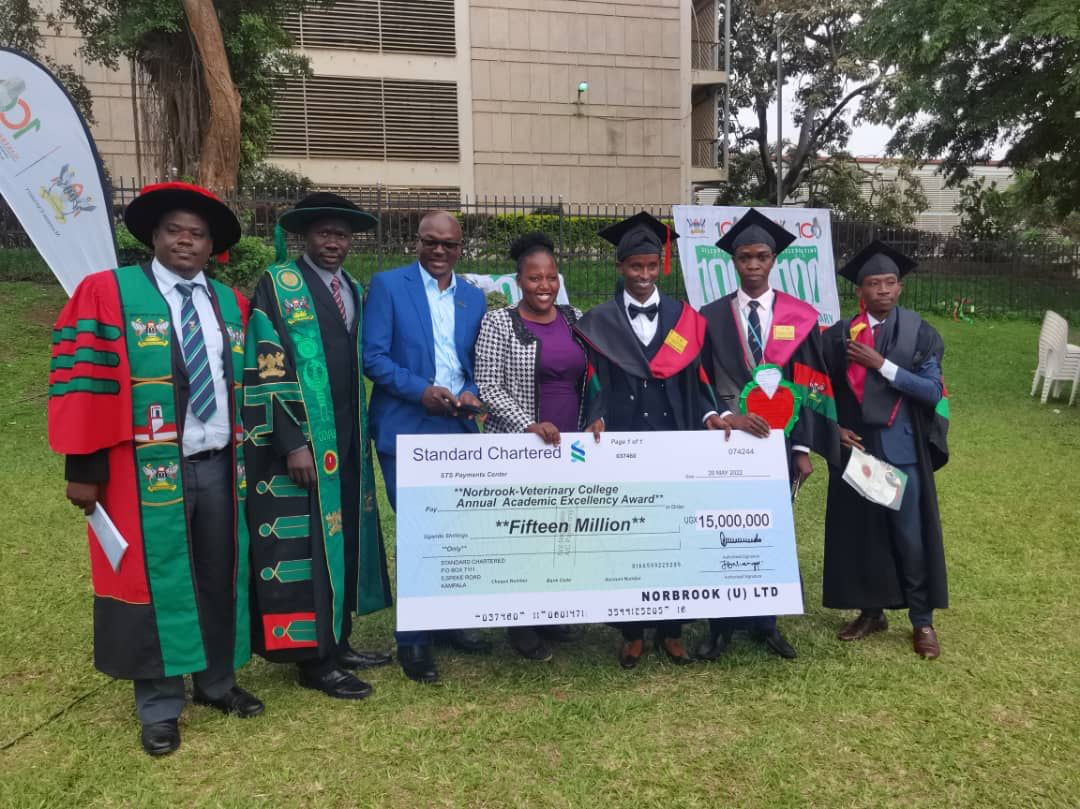 CoVAB staff and Staff from Norbrook and UVA pose with the awardees and their dummy cheque
At Makerere University, Alex has not just been a class student, he has been involved in many University programs including leadership positions, which include deputy speaker of the Veterinary Students Association (MVSA) in his first year, GRC school of Veterinary Medicine and Animal Resources (SVAR) in his second year, President of the One Health Club at Makerere University in his 3rd and 4th year, President of the Animal Welfare club in his 3rd Year.
Also, Alex served at the International level as an iGEM Ambassador to Africa in 4th year and the iGEM Regional Ambassador Program Coordinator for Africa in his 5th year, JOGL Ambassador for Africa in 5th year.  He won two student grants to carry out research, in his 4th year (AFSCAN Studentship) and 5th year (HSA Scholarship), and he would like to continue pursuing a path in research as a career.  "I look forward to continue pursuing my dream as I serve my country to which I am in debt and I thank God who has enabled me throughout this thrilling journey". To my family, teachers and mentors thank you for the love and support throughout this amazing journey.
Ojangole David, the second best student of Bachelor of Veterinary Medicine class of 2022 with CGPA of 4.2 was born in 18t h June 1996 in Kumi District to peasant parents, Ochola Joseph and Nakiria Hellen Rose and has eight siblings.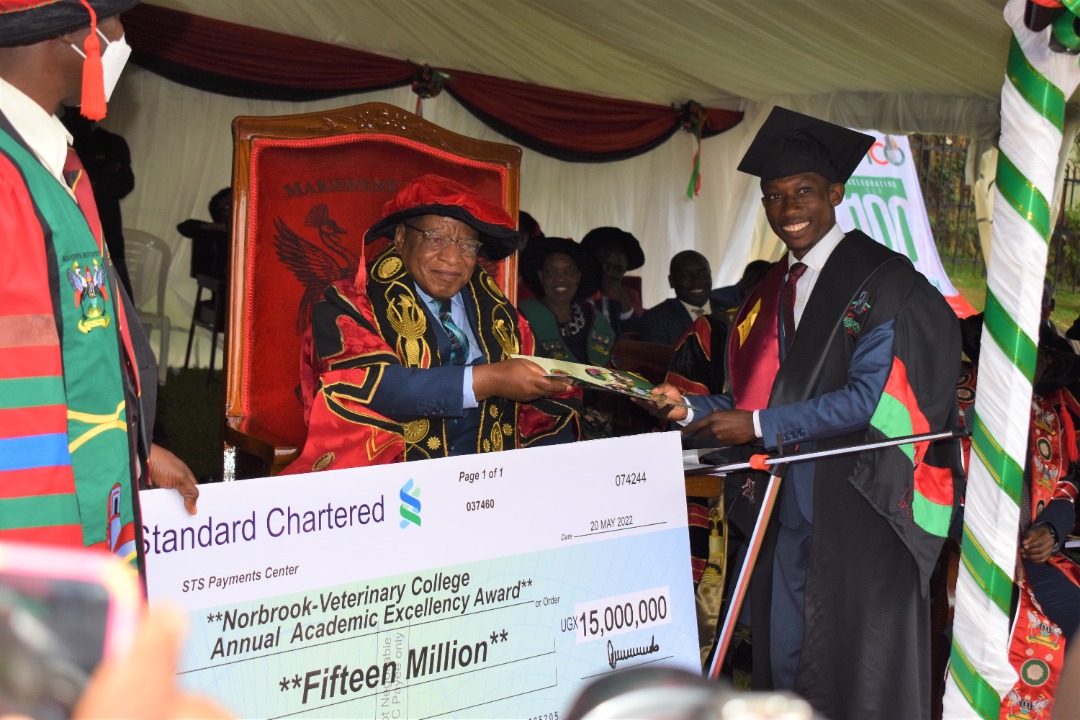 David Ojangole receives a handshake from the Chancellor, inset is the dummy check
He attended his primary education at a Universal Primary Education school, Kabukol Primary School (2002 to 2009) where he obtained 17 aggregates. He later joined Mukongoro High School (2010 to 2013), a rural Universal Secondary Education school in Kumi district. 'I used to walk to and fro for a distance of 4Km every school day and despite the challenges faced, I managed to obtain 23 aggregates for eight in Uganda certificate of education', said the star student that beat the odds to excel.
The finger of God touched him and he got sponsored by Pilgrim Africa that enabled him study his Advanced level at Soroti Municipal Secondary school (2014 to 2015). He got 15 points in the subject combination of PCB/subsidiary mathematics, which enabled him get government sponsorship to study Bachelor of Veterinary Medicine at Makerere University.
'While at campus, my priority was at attending lectures, discussion with classmates, research, personal reading, prayer being at the forefront and I thank God for the accomplishment' explained the wonderful student who intends to take on his Master's degree as soon as funds allow'.
Wafula Ivan the third best student of Bachelor of Veterinary medicine class of 2022 was on 28th February 1996, and he lost his father three months later on 17th February 1996.  "I was then left with my mother Nakayiwa Rose who stopped in primary two to take care of me.' Her only dream was to see her son finishing senior six because she knew she could not afford financing someone at university and its by God's grace that  she witnessed her son becoming a doctor on 25th may 2022' stated the over joyed star student.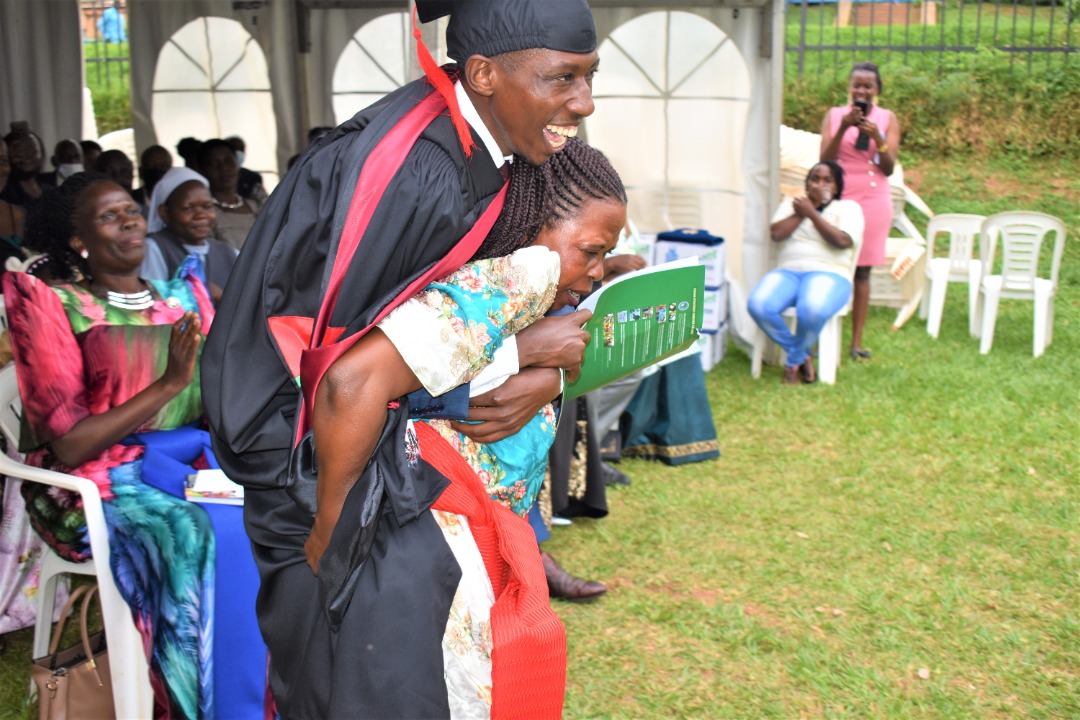 Mothers' joy! Third best is carried by Mother on the back
Born in a family of 7, Wafula  is a product of  Universal Primary School (UPE) . He studied at St. Jude Lukaya Primary School (2002-2009) where he obtained 8 aggregates. Thereafter he went to Wagwa High School (2010-2013) similarly a Universal Secondary School (USE) school in Lukaya Town Council, Kalungu District where he obtained 16 aggregates at O level then joined St Stephen's college Bajja (2014-2015) a local private school where he scored 16 points which enabled him join Makerere University on government sponsorship to study Bachelors of Veterinary medicine.
'Life has not been easy, because of poverty, challenges and difficulties were inevitable but with God on my side I finally made it. Glory to the Almighty', said the overjoyed student. I am looking forward to serve my country to the best of my abilities through my profession and advance in my studies, he promises.
The overjoyed mother shared her joy by carrying her son on the back at the graduation ceremony held on Wednesday 25th May 2022.
Story by Harriet Musinguzi