Researchers Embark on A Cross-Disciplinary Alliance to Identify, PREdict and prePARe for Emerging Vector-Borne Diseases (PREPARE4VBD)
Vector-borne diseases (VBDs) constitute a major challenge facing African healthcare systems and economies today. But vector-borne diseases also increasingly pose a threat to Europe, as novel outbreaks of VBDs of both animals and humans, along with an increased spread of invasive vectors, is anticipated to occur more frequently in the future. Globalization, climatic and environmental changes are important drivers behind this development. Nevertheless, there is a general lack of knowledge of the key characteristics that allow certain vectors and the diseases they transmit to spread and establish in new, previously disease-free areas in both Africa and Europe
To combat this growing threat, the GLOBE Institute at the University of Copenhagen and the Department of Veterinary and Animal Sciences at the University of Copenhagen, along with partners from Europe and Africa including Makerere  University , received research funding from European Union (EU) for the five year  project (2021-2025)entitled"A Cross-Disciplinary Alliance to Identify, PREdict and prePARe for Emerging Vector-Borne Diseases (PREPARE4VBD)".
PREPARE4VBD is a multi-disciplinary consortium that brings together 10 university and ministerial partners from 5 African and 3 European countries, united to address a future with increasingly changing global patterns of zoonotic vector-borne diseases through a holistic, pro-active approach that reaches beyond specific diseases, vector species, borders or scientific disciplines.
While launching the Project during the stakeholders engagement workshop at Centre for Biosecurity and Global Health, CoVAB, Makerere University,Professor Lawrence Mugisha in a special way welcomed participants to the event. He noted that the cross disciplinary team of researchers were inspired to undertake the project  following recent research findings  that highlighted the high diversity of ticks, tick burden and numerous diseases transmitted by ticks in Uganda.
''The project is cross-disciplinary involving partners from human and veterinary health, as well as natural and social sciences. Researchers are focusing on three main areas, including the development of new molecular diagnostics technologies, the development of mathematical and statistical models to predict disease outbreaks and spread, and the strengthening of research and surveillance capacity in both Africa and Europe. The researchers will also be using a One Health approach, which calls for cross-disciplinary cooperation between various professional groups to tackle the challenges posed by these diseases from a holistic perspective on health in animals, humans, and the environment'' explained Professor  Mugisha  who is  Project Principal Investigator at Makerere University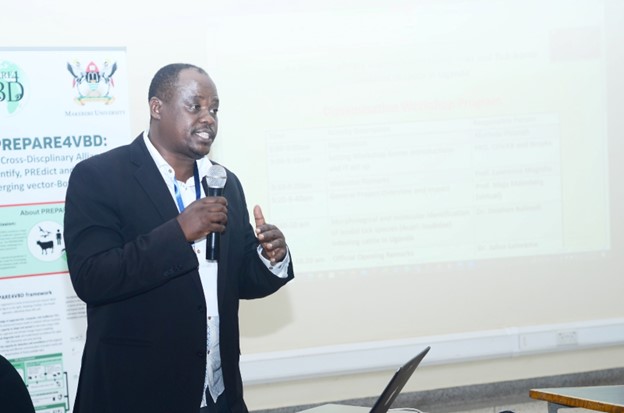 Professor Lawrence Mugisha giving an overview of the Project at the Workshop.
A cross-disciplinary approach is vital
According to  the Project Lead-Professor Anna-Sofie Stensgaard from the Department of Veterinary and Animal Sciences at the University of Copenhagen,Many countries already have well-established systems for monitoring vector-borne diseases of livestock and humans, respectively. But they often lag behind when it comes to diseases that can jump from animals to humans, so-called zoonoses.
"We need to develop better systems for early detection and early warning when these vectors or the diseases they spread move into new, previously disease-free areas. But the systems should also be able to predict the longer-term change in disease patterns due to e.g. rising temperatures and altered precipitation patterns.
"Likewise, we need to ensure that the science and tools we develop in the project can be implemented by the relevant authorities and society. This calls for a cross-disciplinary approach that involves partners from sectors and disciplines within both human and veterinary health, as well as natural and social science," explains Anna-Sofie Stensgaard.
The PREPARE4VBD framework and work package organization
The PREPARE4VBD framework will enable the integration of different existing and novel data on zoonotic vector-borne diseases and tools to:
A) Build knowledge of neglected tick-, mosquito- and snail borne VBDs of importance for animal and human health in endemic African countries,
B) Assess their capacity to adapt and spread to new areas using a holo-genomics approach and climate change impact modelling,
C) Supported by novel diagnostic tools for new and rapid VBD discoveries and model-based surveillance for early warning, and
D) Strengthening the capacity for surveillance and detection of the targeted VBDs through training and effective communication of project results and dissemination of freely available data and tools to consortium partners and other relevant stakeholders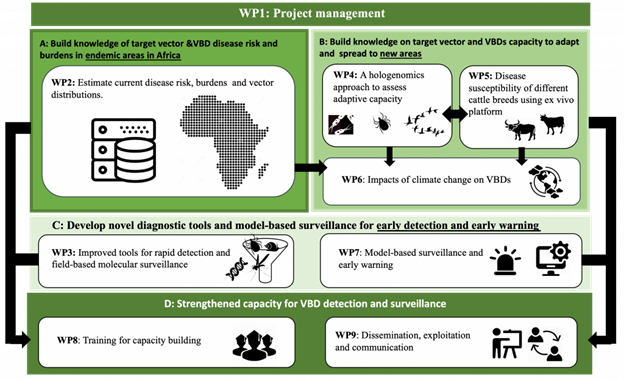 The stakeholder's workshop attracted  over 70 participants ranging from government officials, academia,media, farmers and one- health officials among others.Key issues discussed by participants include importance of dissemination, effective communication by researchers to influence policy, need to develop diagnostic tools and model based surveillance for early detection and early warning about Vector borne diseases.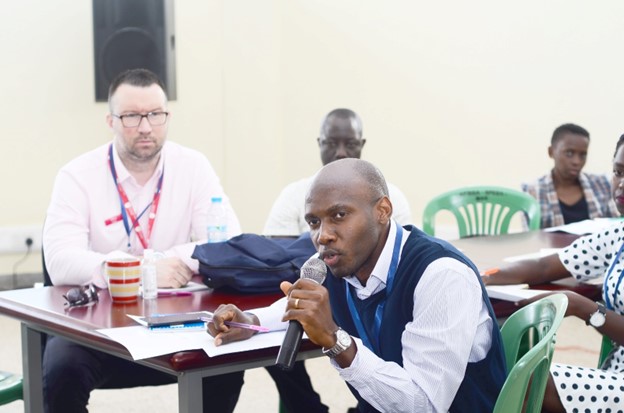 Dr. David Musoke at the event highlighting the importance of multidisciplinary research including environmental healthin addressing emerging Vector-Borne Diseases
MORE ABOUT The PREPARE4VBD Project
The PREPARE4VBD project, part of the research and innovation actions under Horizon 2020 (Grant agreement No 101000365: https://cordis.europa.eu/project/id/101000365), will be coordinated by The University of Copenhagen's GLOBE Institute and Department of Veterinary and Animal Sciences. This international collaboration brings together a diverse group of partners from universities, institutes, and government agencies to enhance preparedness and response capacities for vector-borne diseases.   In addition to contributing to the development of better surveillance systems, the project will also offer courses, webinars, and workshops for African and European PhD students and researchers, as well as launch information campaigns to share project results with society.
The partners involved in this project are:
Makerere University (Uganda)
Sokoine University of Agriculture (Tanzania)
University of KwaZulu-Natal (South Africa)
University of Naples Federico II (Italy)
Swiss Tropical and Public Health Institute (Switzerland)
University of Bern (Switzerland)
International Centre of Insect Physiology and Ecology (Kenya)
Vector Control Division, Uganda Ministry of Health (Uganda)
Centre Suisse de Recherches Scientifiques (Côte d'Ivoire)
National Institute for Medical Research (Tanzania)
March 7, 2023