COVAB PROJECTS IN THE 2022 NATIONAL PATHOGEN ECONOMY SYMPOSIUM
May 21, 2022
by
Brooks
in Uncategorized
Story by Nakaye Jacinta
CoVAB's science, research, and innovations shared facility, the Centre for Biosecurity and Global Health (CEBIGH) hosted a team from Ministry of Science, Technology and Innovation together with a distinguished Professor, John B. Kaneene from Michigan State University on 10th May 2022 for an evaluation activity of its PRESIDE Projects.
During a meeting which was held in the facility's conference room, the Principal Investigator of the Centre, Prof. John David Kabasa appreciated the government of Uganda for supporting the College research and innovation progrgams. He also appreciated Prof. Kaneene for his mentorship in ensuring that CEBIGH is an internationally standardized reference laboratory.
"We acknowledge the President of the Republic of Uganda, H.E. Yoweri Kaguta Museveni and the Government of Uganda for their support towards research, science, technology and innovation. CEBIGH is a platform for all researchers/scientists to discover solutions to the world's problems and develop innovations," said Prof. Kabasa. Adding that, during the structural developments of the facility, Prof. Kaneene was a key adviser on ensuring that the CEBIGH fulfills the requirements for an internationally recognized laboratory.
The Director of CEBIGH Prof. Enock Matovu highlighted on the Centre's progress and projects it is currently focusing on.
The Director, CEBIGH, Prof. Enock Matovu making his remarks on the progress of the PRESIDE Projects housed in the Centre as major actors in the Pathogen economy during the evaluation meeting held in the Centre conference room on 10th May 2022
"CEBIGH is critical on developing drugs and vaccines as a solution to minimize and end existing and emerging diseases that distress humans, animals, plant life and the entire ecosystem," reported Prof. Matovu.
He further gave a highlight on the different PRESIDE research projects housed in CEBIGH which included;
The COVID-19 Biomarker Project by Dr. Kato Charles Drago (Principal Investigator), which is running research on the different classes of COVID- 19 infections to reduce on the burden of patient crowds in hospitals. This research project seeks for markers that are used in classification of COVID- 19 infections and groups the patients into; the controls, symptomatic, asymptomatic and severe based on their markers. The project is as well developing diagnostic kits that will be used for early prediction of who is likely to become severe in infection.
COVID-19 Sub- Unit Vaccine Project by Prof. Matovu Enock (Principal Investigator), which is producing a COVID-19 Vaccine.
Saliva Diagnostic Kit by Prof. Charles Ibingira (Principal Investigator), which is developing time saving cost friendly COVID-19 test kits.
Central Laboratory Animal Research Facility (CLARF) by Prof. John David Kabasa (Principal Investigator) and Dr. Edward Wampande (Co-Principal Investigator), which is a reference laboratory with a breeding unit for lab animals and a trial unit to test the efficacy of developed vaccines and drugs.
This activity was followed by a guided tour led by Prof. Matovu to the Center's Biosafety Levels 2 and 3, and the Central Laboratory Animal Research Facility which is still under construction.
After the visit to the facilities in the Centre, Prof. Kaneene applauded the work well done by the Centre leadership. He however advised that there's need to consider recruitment of highly specialized personnel in the reference animal facility which is in completion stages of construction.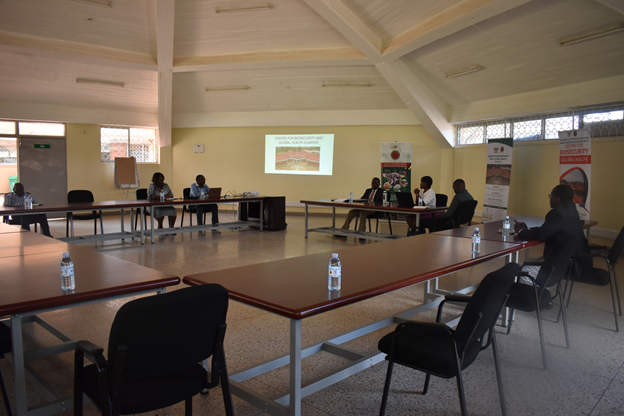 The Centre for Biosecurity and Global Health (CEBIGH) leadership together with evaluators from Ministry of Science, Technology and Innovation and Michigan State University in a meeting on CEBIGH being a major actor in the Pathogen Economy which was held on 10th May, 2022 in the Centre Conference room.
Presidential Scientific Initiative on Epidemics (PRESIDE), is responsible for the fast-tracking of research and innovations of Vaccines, Drugs and Therapeutics as response to emerging diseases and other public health threats.
CEBIGH is one of those units directed by H.E. the President of the Republic of Uganda to be established at Makerere University in realization of a regional Veterinary College, Makerere University College of Veterinary Medicine, Animal Resources and Biosecurity (COVAB). It is one of the research and development service entities that are repositioning COVAB to become a major driver of science, strategic research and service nationally, regionally and globally, hence a major actor in the pathogen economy.