COVAB presents a fresh Vision for Veterinary training in Uganda.
The College of Veterinary Medicine, Animal Resources and Biosecurity (CoVAB) is proposing a policy shift in Veterinary training from the focus on animal welfare to the promotion of Industrial Veterinary Education, Science, Technology, Innovation and Medical Services.
The proposed policy shift will help re-orient Uganda's animal sector education to a holistic Industrial Value-chains Veterinary Education, Science, Technology, Innovation and Medical Services system.
EPRC members in a discourse. with CoVAB management and staff
During a discourse with the Education Policy Review Commission (EPRC) held at the College on Thursday 25th January 2023, it was explained that the shift in the way various programs are taught would promote competitiveness, Transformative and export oriented education in the 21st century in Uganda.
The Principal, CoVAB, Prof. Frank Nobert Mwiine while presenting the proposal to the committee led by Hon. Amanya Mushega noted that once adopted, the new direction would speak to the future needs of the country and the continent.  The strategy he said, would help create a comprehensive animal resources development system in the country. The shift comes in following a directive by H.E the President in 2007 about reforms in the veterinary and animal resources education sector to inform policy, strategy, planning and subsequent engagement.
Although the Animal Industry contributes 40% of Agricultural GDP globally and is the fastest growing sub-sector of Agriculture, Veterinary education is offered only at Makerere University, while other institutions offer Animal production and management. He pointed out the apparent lack of veterinary training at certificate or diploma levels which presented a service gap in the community.
He further noted that research and extension were divorced from education reiterating the fact that a functional veterinary education should not be divorced from research & extension.  'The "Ivory tower" system does not ably promote veterinary education from research and extension because they are delinked from structured community development, leading to products or graduates that are job seekers and are less innovative, he explained while deliberating about the animal industry and veterinary education system in Uganda.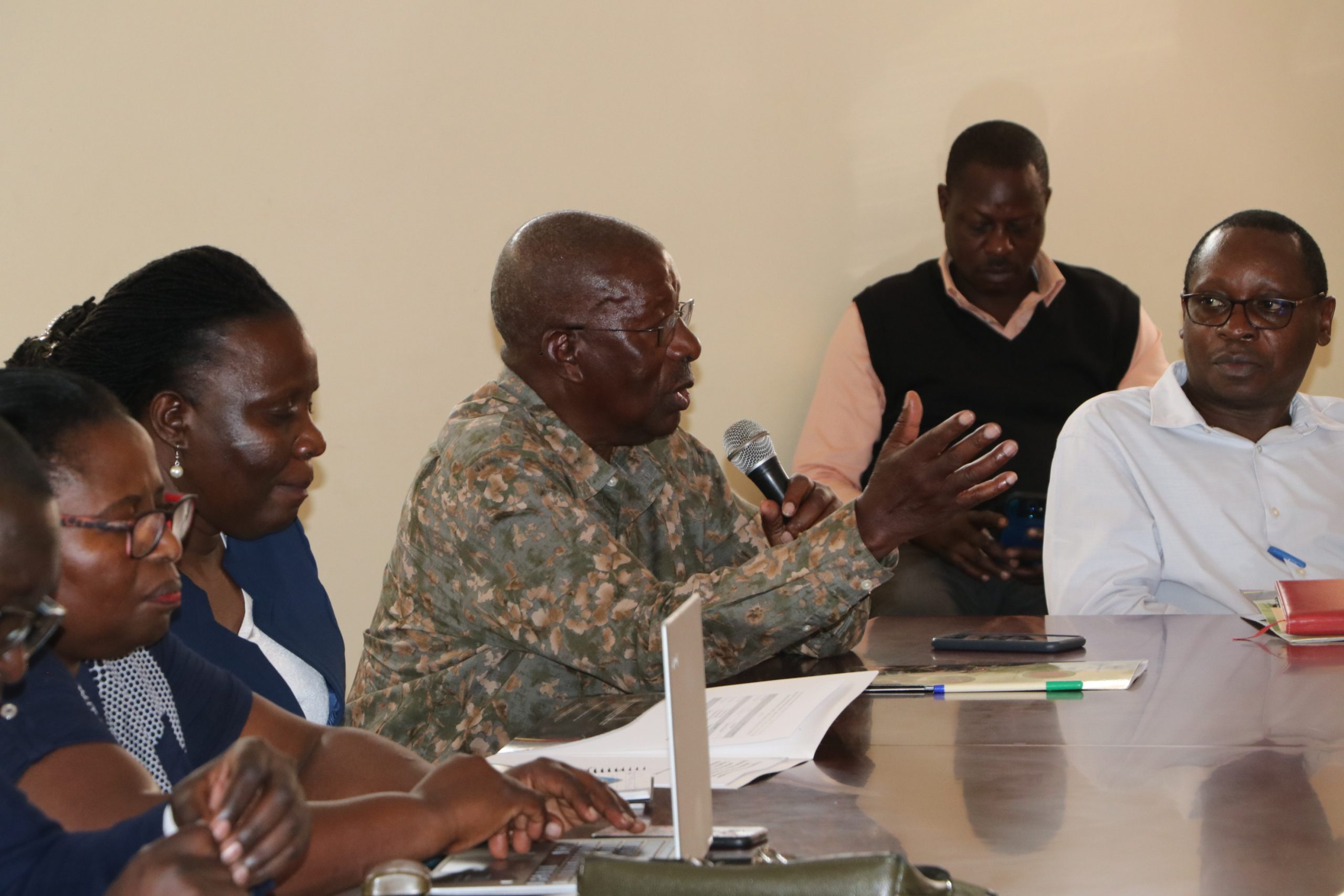 Chairman, Hon. Col.(Rtd) Amanya Mushega  flanked by the members makes his opening remarks
Prof. Mwiine said the fresh vision of the College was to shift from welfare – based animal education to Industrial Veterinary Education Science Technology, Innovation and Medical Services systems.  'This is a fresh and clear veterinary education philosophy for Uganda where education and practice are based on the animal as a factor in development rather than the traditional drive for animal welfare,' he emphasized.
Further, the principal explained that the 21st century is characterized by many emerging and re-emerging diseases and disasters on the continent and that Uganda was a hub for most of the deadly zoonotic epidemic diseases of the world.  If adopted, he noted, the proposed changes would enable Uganda serve as a continental hub and the great lakes regional incubation center for Veterinary Education Science Technology, Innovation and Medical Services system. For this to be realized, there is need for enhanced capacity of veterinary education and research in Uganda, collaboration among veterinary education establishments as well as harmonized curricular, and other standards.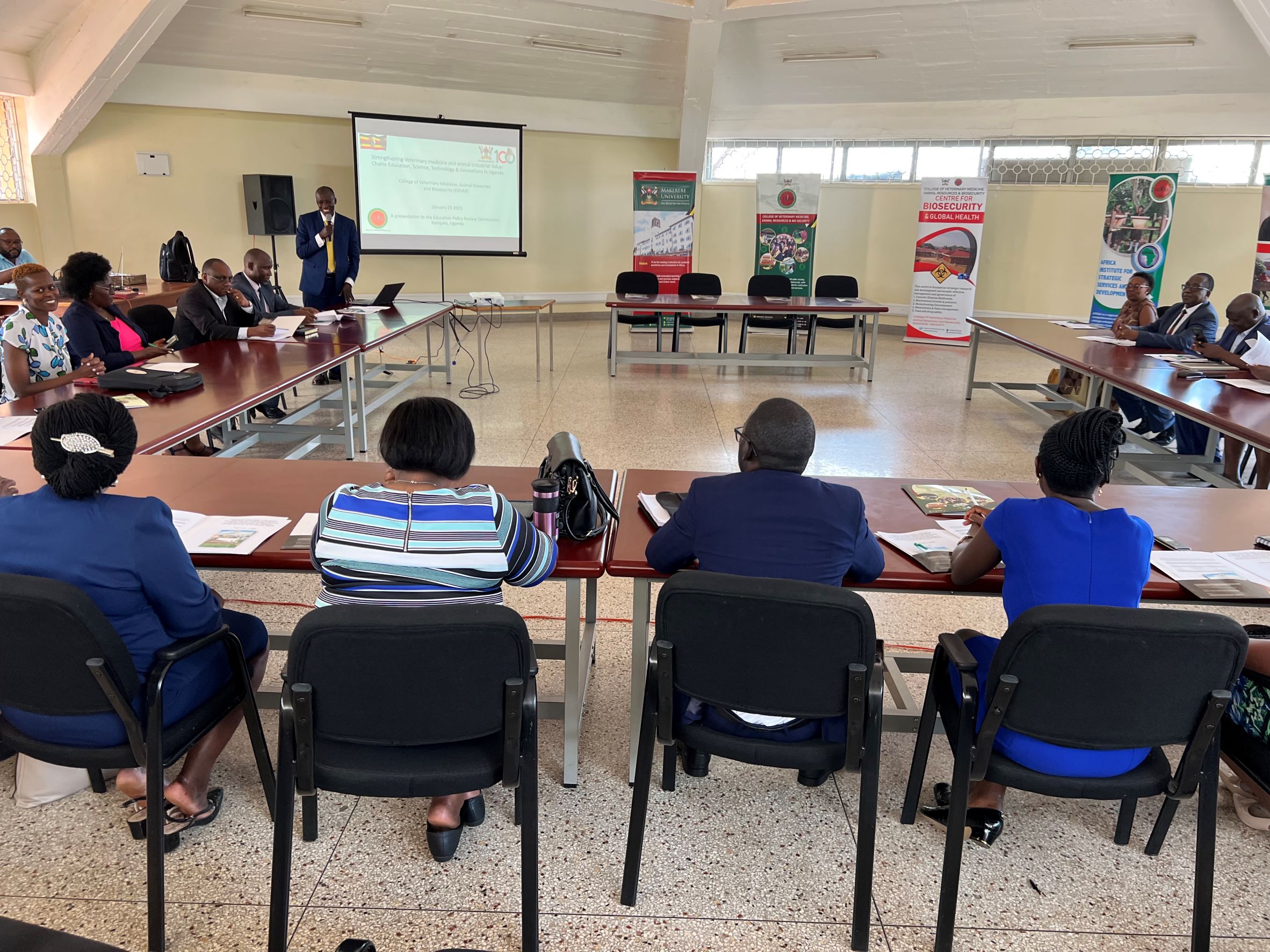 The Principal COVAB Prof. Frank Mwiine addressing the Commission. 
He further illustrated some of the key reforms that had been attained already that include the reorientation to a college of veterinary medicine, animal resources and bio security.   The college was building a Veterinary Education Science Technology, Innovation and Medical Services system focused on the production of a number of value chains that include; Livestock Industry, Wildlife tourism, Global Biosecurity and safety, Biotechnical and Diagnostics, Veterinary Medical Industry and animal welfare, Pharmaceutical Industry and pathogen economy, Bimolecular engineering as well as household industrial cottages.
For the proposed reforms to take effect, there was need for a national policy and regulatory framework and a special mechanism for the development of veterinary educationists, scientists, researchers and extension workers.   The curricular needs to be revised to make it holistic and deliberately target making Veterinary Education Science Technology, Innovation and Medical Services system competitive livelihoods, veterinary industrialization and socio economic transformation.
In the proposal, the establishment of Veterinary Education Science Technology, Innovation and Medical Services system think tanks was identified as a key forum to generate new ideas and concepts to reposition the continental animal resources industry and veterinary sector competitively globally.
The other proposal was the harmonization of requirements and standards for qualification frameworks, a national assessment body as well as an informatics system.
CoVAB is already training students in the various Animal Industrial Value chains namely;
Veterinary Medical Industry and Animal Welfare
Livestock industry
International Veterinary Education and Training
Wildlife Tourism and Hospitality Industry
Fisheries and Aquatic Animal industry
Pathogen Economy and Pharmaceutical Industry
Global Biosecurity and Safety Industry
Biotechnical, Diagnostic and Laboratory Industry
Biomolecular Engineering and Product Development
Industrial Household Development and Cottage Industries
While at the CoVAB, the EPRC team was taken on a guided tour of the facilities in the Centre for Biosecurity and Global Health (CeBIGH), that were refurbished with support from ADB. They were updated about ongoing work that include the Covid 19 Vaccine development.  It was explained by Dr. Matovu that the government of Uganda through the Ministry of Science Technology and Innovation was supporting production of locally made vaccines and that the center has as a rodent facility where many drugs can be tested.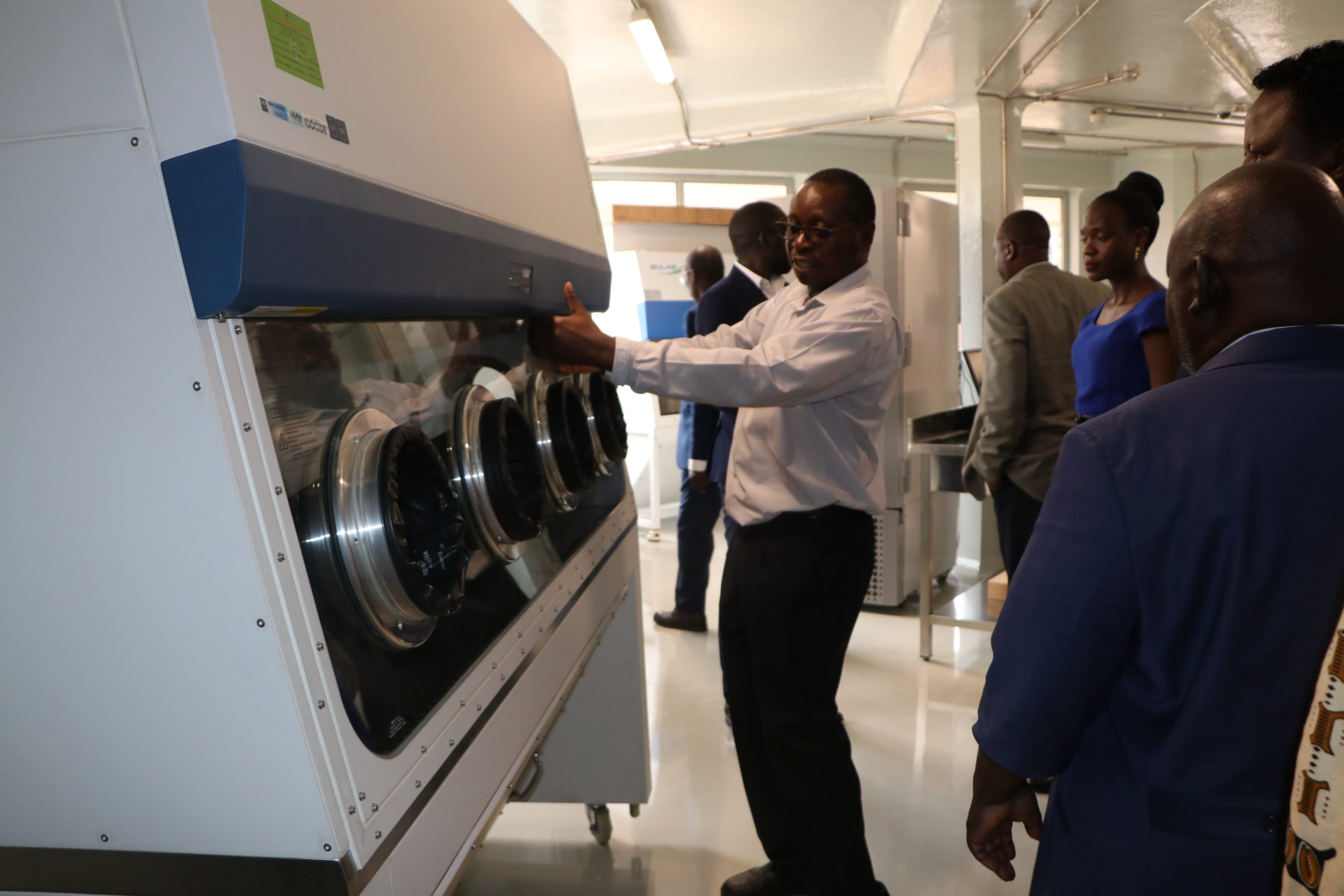 Prof. Enock Matovu demonstrates how some of the machinery in the center operates
The main function of the Education Policy Review Commission (EPRC) is to draft a new macro policy framework for education and sports for Uganda. This will replace the current Government White Paper on Education of 1992. The Education Policy Review Commission was launched by the First Lady and Hon. Minister of Education and Sports in May 2021.
Story by Musinguzi Harriet.