Antimicrobial Awareness Resistance Awareness Week
Story by Joseph Odoi
Assoc. Prof. Lawrence Mugisha  from the College of Veterinary Medicine, Animal Resources and Bio Security (CoVAB), Makerere University has cautioned the general public on self-medication and  misuse of drugs.
This call comes at a time when microbial infections are becoming increasingly resistant to available drugs under the scientific phenomenon known as Antimicrobial resistance
According to WHO, Antimicrobial resistance (AMR) occurs when bacteria, viruses, fungi and parasites change over time and no longer respond to medicines, making infections harder to treat and increasing the risk of disease spread, severe illness and death. As a result of drug resistance,antibiotics and other antimicrobial medicines become ineffective and infections become increasingly difficult or impossible to treat.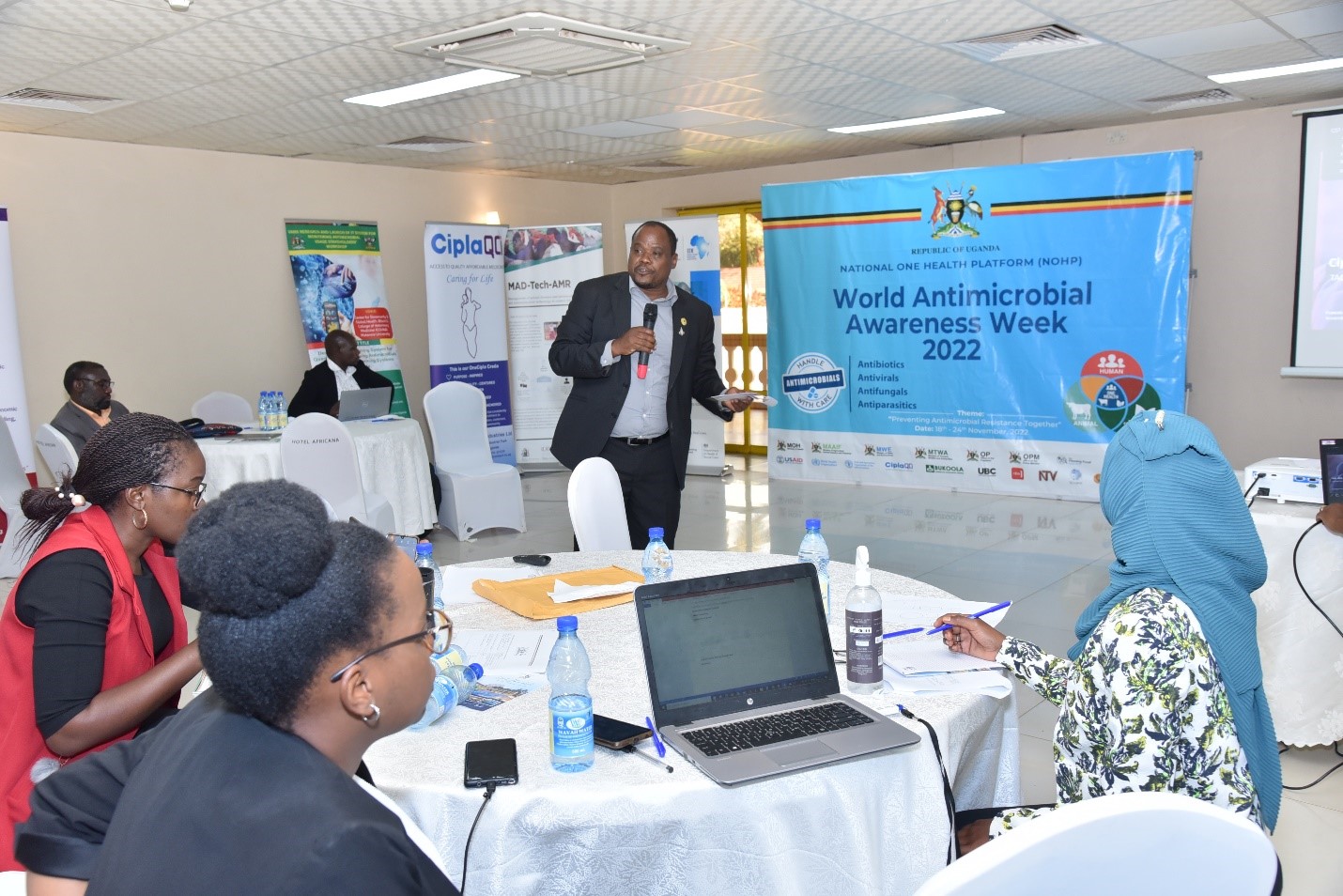 Prof. Lawrence Mugisha making a presentation on combating AMR
While gracing the   Antimicrobial resistance Awareness Week Dialogue (AMR) held at Hotel Africana, Kampala Uganda, Prof. Lawrence Mugisha said Antimicrobial resistance is on the rise locally and globally mainly due to over consumption and misuse of antimicrobials thus need for urgent attention.
'' Antimicrobial resistance is on the rise locally and globally mainly due to over consumption and misuse of antimicrobials. Self-medication is now rampant in low and middle-income countries especially here in Uganda where antimicrobials especially antibiotics are accessed over the counter in pharmacies and drug shops without a prescription throughout the country.
 There are wide malpractices among professionals dealing with drugs despite the existing regulations and guidelines for prescriptions. The majority of the consumers and end users are not aware of the consequences of just taking antibiotics, taking low doses, not finishing the dose while dealing with conditions that have not been properly diagnosed.
There are a number of misuse practices with antibiotics that have not been well explored and discussed publicly like sharing of antibiotic doses among family members, use of antibiotics meant for human treatment in animals and vice versa.
In livestock practice, the situation is worse especially when antibiotics are used for disease prevention in feeds and water, a common practice in poultry farming.  These malpractices and misuses in using antimicrobials require urgent attention in all efforts to addressing antimicrobial resistance challenges'' explained Prof.Mugisha
''We require massive campaigns to raise public awareness on the dangers and consequences of the inappropriate use of antibiotics and appropriate actions expected from every actor at different levels. The package of different actions to address antimicrobial resistance should be universal using one health approach'' he recommended moving forward.
In his remarks to mark the overall Awareness event held at Nakasongola District, Mr. Musa Ssekamatte on behalf of the National One Health Platform (event organizers) welcomed participants to the event. He noted that the main purpose of the World Anti-Microbial Awareness Week is to increase awareness and understanding of antimicrobial resistance (AMR) and promote best practice among the general public to reduce emergence and spread of drug-resistant pathogens.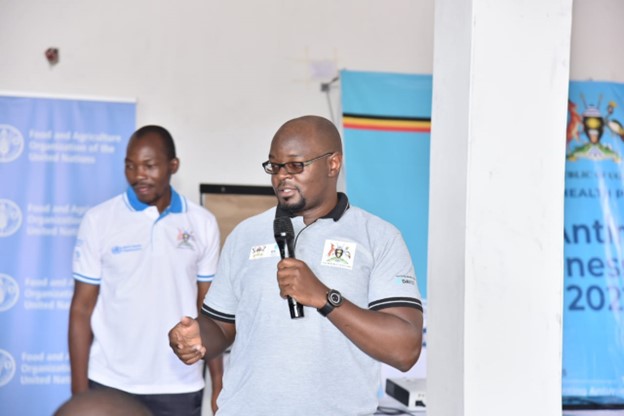 Mr. Musa Ssekamatte giving his remarks
Citing the WHO report, Mr. Sekamatte noted that AMR is one of the emerging public health challenges that if left unchecked will contribute to 10 million deaths per year.
To address this problem, Mr. Sekamatte revealed that a national one health platform was established to enable Uganda implement the National Action Plan against AMR. The National One Health Platform enables different sectors to work together in prevention, detection and control As part of the national action plan against AMR, He highlighted the following
Awareness
Surveillance
Training
Research
 In his remarks, Muyanja Elaad -the secretary for health and Education at Nakasongola representing the Resident District Commissioner thanked National One Health Platform for handpicking Nakasongola as a host District for this year's AMR Awareness Celebrations. He noted that AMR is now a serious concern adding that AMR touches everyone thus need for a multi-sectoral approach. He called upon all participants to be patriotic by observing hygiene in human health and animals, proper eating habits.
Muyanja Elaad-the secretary for health and Education at Nakasongola  District
During the long week WAAW sessions, participants were introduced to some   of the strategies to promote responsible uptake of antimicrobials and innovations and safe practices aimed at lowering uptake of antimicrobial in plants, animals and humans among others. The Awareness Week attracted notable government officials namely; Nsamba David-Nakasongola District Fisheries Officer, Uma Charles, the Chief Administrative Officer at Nakasongola and Nakamya Sarah –the Nakasongola District Production Officer among others. The day's activity was coordinated by Dr. Ssekamatte of the One Health Platform .