AFRISA EMBARKS ON INDUSTRIALIZATION OF AGRICULTURE.
May 21, 2022
by
Brooks
in Uncategorized
In Uganda, subsistence agricultural production is reported to be an ultimate contributor to household poverty, which is regarded as a setback to Uganda's economic development. This challenge ignited the need for farmers' mindset shift from being micro farm producers to industrial farm producers. However, this should be accompanied by building farmers' capacities in industrial farm production.
As a leading institution in community development, African Institute for Strategic Animal Resource Services and Development (AFRISA), with support from the Government of Uganda, through Ministry of Science, Technology and Innovation (MoSTI) is retooling farmers at household level with industrial farm skills.
This initiative is part of the Parish Development Model (PDM) which was launched by the President, H.E Yoweri Kaguta Museveni on 26th February 2022 in Kibuku District as a Government strategy to improve incomes and livelihoods of Ugandans at household level.
The households' agricultural capacity development activities which are coordinated by AFRISA, under the leadership of its Director, Mr. Felix Okello, were officially launched by the Minister of Science, Technology and Innovation, Hon. Dr. Monica Musenero on 4th April, 2022 in Butebo District, Petete Village.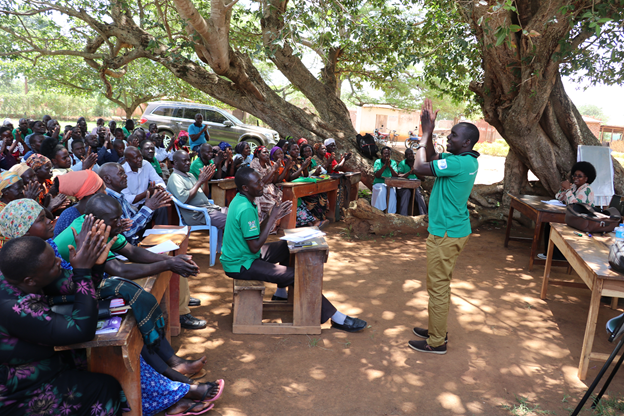 At the event, the Minister in a special way reiterated Government's commitment to development, adding that more projects were on the way just like the Parish Development Model. However for this to be achieved, she tasked communities to be faithful with the current similar government projects.
She also emphasized the importance of mindset change if development was to be achieved in the country.
Minister Musenero biblically quoted Paul saying, "When I was a child, I behaved like a child, but when I grew up, my thinking changed," leaving participants with food for thought.
To crown off the day, she thanked all participants for turning up and embracing the Parish Development Model which is aimed at delivering services closer to the people, while providing measurable results at the Parish level in order to ensure transformation of the subsistence households into the money economy.
CoVAB's AFRISA is currently revamping farmers' knowledge and skills on generating income from the various animal products' value chains of poultry, apiary, meat, piggery, diary, and crop products. Communities are as well being tipped on essentials of land utilization, understanding consumer needs, demand, supply and production in the market place among others.